Top Amazon Kindle Book 'The Chronicles of Koa' Author Releases New Bonus Material for Readers
Beloved fantasy novel, The Chronicles of Koa: Netherworld has been newly updated with additional bonus material in lieu of the next series.
FOR IMMEDIATE RELEASE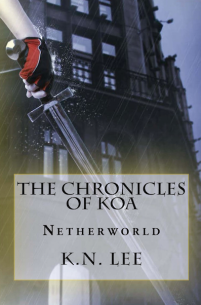 PRLog (Press Release)
-
Nov. 18, 2013 - CHARLOTTE, N.C. --
After reaching the
Top 20 of Amazon's Kindle
Fantasy Charts for Urban Fantasy in both the United States and the United Kingdom during the month of July 2013, The Chronicles of Koa's is at it again with the release of brand new bonus material for
young adult and adult fantasy book
readers.
The book, which was originally published in May 11, 2013, has been updated to feature the newest material that states,
"Someone has stolen classified documents from the Netherworld division's vaults. Read the secret interviews that were leaked to the press, and discover the hidden clues of Lyrinian Blade".
A sequel will soon follow the material suggests as previous readers crave the next installment of the series.
One reviewer by the name of Susan states on her 5-star Amazon book review saying,
"The Chronicles of Koa: Netherworld is creatively addicting. As a former English instructor and creative writing teacher, this book contains the ideal balance of adventure, suspense, and intensity coupled with eloquent descriptions that can keep up with the most creative minds. K.N. Lee has mastered the craft of drawing readers in with her words, yet infinitely keeping them hooked through this page-turner. She has the ability to construct ingenious yet cunning characters in a way in which the reader cannot help but love, yet often hate at the same time."
The story is about a half-blood girl named Koa, who must journey to the Netherworld to release a creature that can break her mother's curse and protect the ones she loves the most. The book has been completely updated and is now available on
Amazon.com
on
Kindle eBook format
for only $4.99.
K.N. Lee is an American writer and author and currently resides in Charlotte, North Carolina. She enjoys writing fantasy and horror novels, along with the occasional short story. She is also an avid writer of poetry and does a great deal of promoting for other authors on her personal website. When she is not cooking traditional Asian meals for her friends, she travels the world and practices foreign languages. She lives with her two dogs, Raven and Rocco.
For media inquires please contact Author, K.N. Lee via email at
knlee@thechroniclesofkoa.com
. To learn more about
The Chronicles of Koa
, or to purchase the latest version visit:
www.thechroniclesofkoa.com
Media Contact
K.N. Lee
***@thechroniclesofkoa.com